Standard Function

01.Attendantless Operation:Automatically stop at leveling and open door,and automatically close door with time delay. In addition,manually close door before set-time of close door, automatically store interior floor selection and automatically respond external inturn calling.

02.Attendant Operation:Selection by driver,automatically open door when stop at leveling,and automatically store interior floor selection,automatically respond external in-turn calling,and manually close door.

03.Safety of Colse Door:When colse elevator door,if someone or goods are entered, the action of close door is stopped at once and open door again.

04.Overload Protection:If the load of elevator exceeds rated load,the overload indicating lamp will light and alarm is sounded.The elevator will not be run if the door is not closed.

05.Full Load by Pass:If load of elevator reach rated load,the elevator only responds interior call, and not respond external call.

06.Function of Energy Saving:If the elevator is not operated,the illumination and fan inside car will be autoomatically turned off.They will be turned on qutomatically at once by instruction at any time.

07.Stop Nearby when Fault Occurs:If the fault occurs when elevator running in midway,the elevator will slowly run to nearest floor,stop at open-door zone and then automatically open car door.

08.Arrival Chime:when the elevator runs before stop at the floor,the clock will be sounded to remind passenger that the elevator will stop at the floor.

09.Emergency IIIumination of Car:If the power of illumination is broken,the emergency lamp inside car will be lighted automatically.

10.Auto Return to Landing:The elevator will automatically return to appointed landing if no internal or external calling signal.(the landing can be discretionarily set)

11.Auto Leveling when Power On:If elevator runs at non-door-zone when power is broken,the elevator will automatically reach the leveling position after power is on again.

12.Over-Speed Protection:When the running speed exceeds rated speed due to fault,the electrical and mechanical protection functions will be started to prevent car running from excess of up and down range.

13.Anti-Mischief Function:If exceeding 3 interior calling inside car when elevator load is below setting value,the system will delete all calling and re-select floor.

14.VIP Service Function:When elevator is at VIP service state,the calling inside car will be executed firstly to ensure quick arrival of passenger inside car.

15.Door Nudging with Buzzer:If the time of open door exceeds setting time,the system will close door compulsively and the close door protection function will be neglected temporally.

16.Internal Communication:If the elevator is in abnormal state,the persons in car,at car roof and bottorm pit can communicate with machine room or control room.

17.Inspection and Diagnosis for Faults:When fault occurs,the system of elevator can automatically diagnose the causation of fault,and store the information into systerm for maintenance personnel call.

18.Repeat Close Door:After executing instruction of closing door,if door lock circuit is not connected within specified time,the elevator will re-open the door and then re-close the door.

19.Parking Function:When service of elevator is stopped,any floor can be selected to park elevator.

20.Function of Auto Start and Stop Elevator:If no operator for elevator,auto start and stop elevator can be set based on requirement.

21.Elimination of Mis-Operation:If passenger select floor in error,the floor can be re-selected after eliminating mis-operation.

22.Setting any Non-Stop Floor:The user can set any temporary non-stop floor based on requirement.

23.Setting any Indicating Character of Floor:The user can set any indicating character of floor based on requirement.

24.Self-Diagnosis Function of Call Button:When the call button in some floor is on for long time,the system will neglect the call request of this floor.

25.Dormancy Function of Floor Display:If no one uses the elevator over setting time,the LCD will enter into dormancy state to raise the service life of LCD.

26.Intellective Operation of Rush and Slack Hours:When the elevator is in this operating state,it will select best operation mode based on flow and time.
GENERAL TERMS OF BUSINESS
1. We have set foot in this flied for more than 10 years & got stable suppliers with competitive price.
2. More than 4,000 kinds of elevator parts, which contain almost every part.
3. We are a member of Lift and Escalator Contractors' Association in Shaanxi.
4. We are the ONLY Bureau Veritas certificated elevator parts company in China.
PACKING AND SERVICE
1.Package:export cartons & wooden cases.
2.Payment:we receive 100% paymet of T/T,WESTUNION,PAYPAL,MONEYGRAM,ALIEXPRESS.
3.BV:Bureau Veritas was established in 1828. Headquartered in Paris, France, Bureau Veritas is one of the
world's most widely recognized authorities in the certification industry. Itis a global leader in the certification
aspects of OHSAS, Quality, Environment and Social Accountability Management System.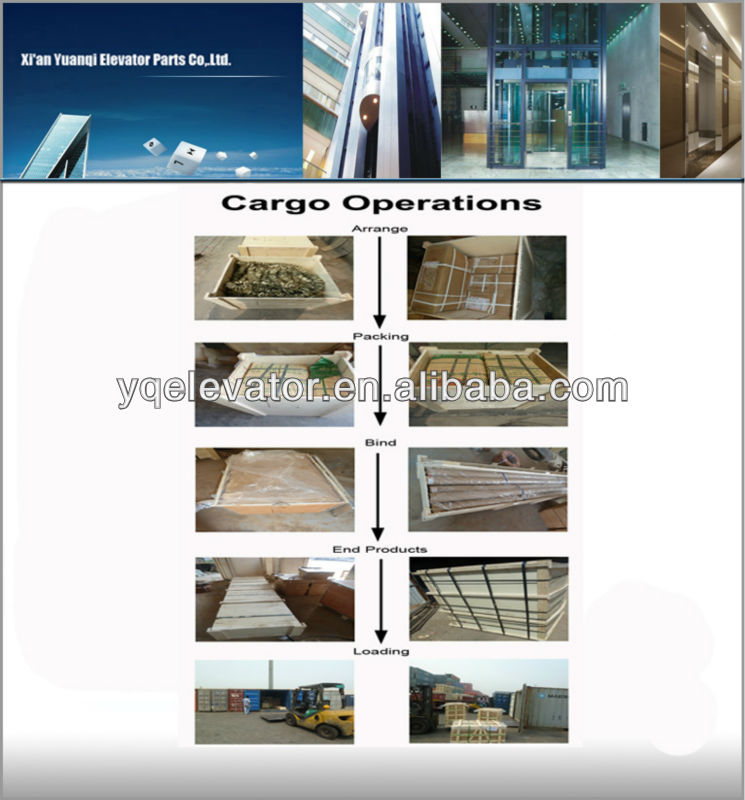 About the warranty
1. We guarantee the merchandise is 100% brand-new.
2. The warranty period for unit is 12 months from the date of delivery.
3. We guaranteeing returnable if the merchandise is not available for the first 3 months.
4. This warranty does not cover any damage due to accident, misuse, negligence, or caused by covered use with voltages other than designated.
Our company have been the First membership of
"Assessed Supplier"
♥ If you want to know more information about our products welcome to contact us in any time, And welcome to our company!